Singapore Polytechnic & Shimadzu (Asia Pacific) renew agreement to further strengthen SMARTLab initiative in Singapore
Singapore Polytechnic (SP) has renewed the Memorandum of Understanding (MoU) with Shimadzu (Asia Pacific) Pte Ltd to grow the SMARTLab initiative, which will usher in futuristic technologies from Living Instruments to further enhance Singapore's Smart Nation journey and capabilities through Analytical Intelligence and Digital Transformation.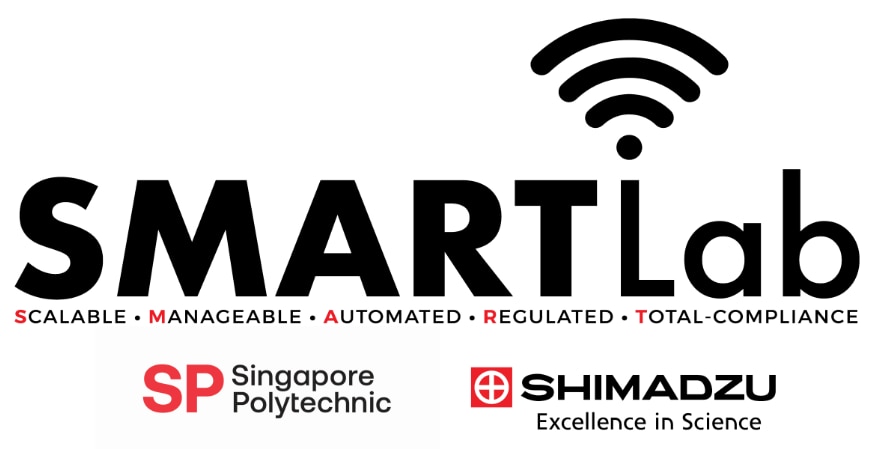 Singapore, 9th December 2021: Shimadzu (Asia Pacific) Pte Ltd and Singapore Polytechnic (SP) have renewed the Memorandum of Understanding (MoU) on the SMARTLab initiative and will advance it to a new development phase today. The agreement to renew the MoU for another three years was signed by Mr Loh Yew Chiong, Senior Director at SP's Computing, Chemical & Life Sciences Cluster, and Mr Tetsuya Tanigaki, Managing Director, Shimadzu (Asia Pacific) Pte Ltd, the APAC subsidiary of the 146-year-old Shimadzu Corporation Japan.
SMARTLab was first established by the two parties through an earlier MoU signed on 30th May 2018. It then marked the launch of Singapore's first and only platform to support enterprises from the energy and chemicals sector in the digitalisation of their laboratories. With the renewed MoU, SMARTLab will embark on training the Singapore workforce on analytical instrumentation, data management, automation and other disruptive technologies such as Analytical Intelligence.
The scope of the partnership between SP and Shimadzu will encompass many key areas. They include:
• Shimadzu will support SP to co-conduct physical and virtual SMARTLab learning journeys.
• SP and Shimadzu will co-host webinars or workshops that promote the application of SMARTLab technologies in QA/QC laboratories.
• SP will support Shimadzu's plan to set up an experiential zone within Shimadzu's premises to provide value-added services to industry stakeholders. Visitors to the experiential zone will experience various technologies through the use of mix-reality devices and other e-tools.
• Shimadzu will offer internships to four SP students every academic year and jointly award certificates to participants who complete the Continuing Education & Training (CET) and Pre-Employment Training (PET) programmes on analytical instrumentation which are conducted in the SMARTLab.
Located at SP's Dover Road campus, the SMARTLab initiative has facilitated the creation of an ecosystem in Singapore that supports the digital transformation of a QA/QC laboratory. The SMARTLab facility is fitted with state-of-the-art analytical instruments and designed to enrich the learning experience of students in picking up essential 4.0 knowledge and skillsets. As part of its industry outreach efforts, SMARTLab also offers an Industry Catalyst Programme (ICP) to support companies in their digital transformation.
Mr Loh Yew Chiong, Senior Director at SP's Computing, Chemical & Life Sciences Cluster, said, "The renewal of this strategic MoU is a seal of commitment by SP and Shimadzu to play an even more significant role in contributing to the digital transformation of industries in Singapore. There is no better time than now in this digital age to reaffirm this commitment, and stage the next steps for enterprises to adopt cutting-edge technologies and enable them to improve their cost efficiencies and productivity."
Dr Tan Tuan Lin, Acting Director of SP's School of Chemical & Life Sciences, said, "As Industry 4.0 innovation expands in the coming years, it will be crucial for professionals and our learners to deepen their capabilities in applying digital technologies and understanding their impact in business operations and processes. Our continual partnership with Shimadzu serves to achieve this goal in building a talent pool in Singapore that will meet the demands and expectations that the Industry 4.0 revolution will bring in the near future."
Shimadzu (Asia Pacific) Managing Director, Mr Tetsuya Tanigaki, revealed that, "Shimadzu's Corporate Philosophy is Contributing to Society through Science & Technology. Our collaboration with Singapore Polytechnic and the creation of the SMARTLab is yet another reiteration of this philosophy. What better way to contribute to making this world a better place than to enable teachers and students? Shimadzu is always here to support our long-standing partners in their quest for providing the best of training and education through Excellence in Science."
Mr Prem Anand, Executive Officer & Senior General Manager, Shimadzu (Asia Pacific), who was the other witness to the MoU, said, "The collaboration between Singapore Polytechnic and Shimadzu over the past four years has been very fruitful for both our organisations, with key milestones such as the launch of SMARTLab in 2019 and the setting up of the Digital Cockpit in 2020. In 2021 and beyond, we would see students of all ages getting trained on even more futuristic innovations like that of Living Instruments, which will ensure Zero Waste and a reduction in the overall carbon footprint, among other technological marvels. Today's students are tomorrow's leaders and so it becomes very important that we encourage them to focus on sustainability. Additionally, we are also planning to set up the SP-Shimadzu Academy to elevate the quality of knowledge of analytical chemistry not only in Singapore but also in Asia."
Ms Tan Guat Kheng, General Manager, Shimadzu Singapore, highlighted that, "Along with getting trained on analytical technologies by Shimadzu, the students also greatly benefit from the internships that we are providing in our Centre for Application Solutions (CAS). With the extension of our collaboration, more students will have the opportunity to learn about our advanced technologies and be better prepared for their future employment in the scientific community."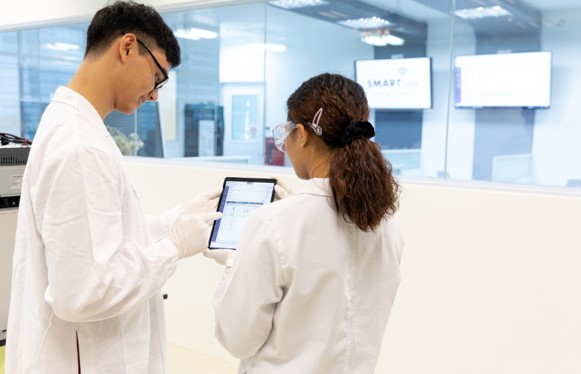 Beginning of the next era in Partnership & Global Networking
The SMARTLab will be included in Shimadzu's World Lab Network as part of this renewed partnership. This network aims to connect all the laboratories that collaborate with Shimadzu across the globe and provide a global platform for key opinion leaders from SP to share their ideas and innovations. The World Lab Network offers opportunities for SP staff and students to exchange knowledge with educators, intellectuals, researchers and students from different parts of the world.
Rapid digital transformation of workplaces across the globe
With the advent of the COVID-19 pandemic, we have witnessed rapid technology acceleration, or Tech-celeration, across all industries throughout the world. In line with current global trends of digital transformation in the workplace, SP and Shimadzu will develop training curriculum on the latest technologies in analytical instruments using e-tools such as simulation packages and mixed reality devices.
Advocates of Smart Nation initiatives
The deployment of training HoloLens2 headsets for SP students has prompted Shimadzu to create a User Experiential Zone (UEZ) for customers and staff. SP will provide advice and support on the pedagogical aspects and e-tools used. This one-of-its-kind UEZ shall provide a 360o Virtual Lab Environment experience to users, and Shimadzu has plans to adopt the use of SP's Tech-enabled e-Learning packages and simulation modules. These technology-powered learning experiences are in line with the Smart Nation initiative. Moreover, this initiative envisions the island nation as a digital-first country in which people can work together by harnessing the latest technologies.
SP and Shimadzu (Asia Pacific) share a common goal in playing a part to transforming Singapore businesses through technology, and will continue to collaborate on smart initiatives which support this aspiration. A crucial part of smart initiatives in the scientific community would be the inclusion of Living Instruments. In 2021, Shimadzu launched its first Living Instrument – The World's First Living Liquid Chromatograph, and this is the first-in-line of many such Living Instruments that Shimadzu plans to launch over the next years. Shimadzu will provide support on Living Instruments to their valued partners such as SP. This Living LC (an UHPLC) and other Living Instruments possess the elements of machine learning, i.e. they are able to self-optimise and self-adapt and have self-learning capabilities. Most importantly, such analytical intelligence helps to minimise downtime and reduces the risk of shortening the life-span of an analytical instrument.
About Singapore Polytechnic (www.sp.edu.sg)
Established in 1954, Singapore Polytechnic is Singapore's first polytechnic. It has 10 schools that offer 30 full-time diploma courses and three common entry programmes for more than 13,500 students. SP adopts a proven creative teaching and learning framework and offers students a holistic, authentic and industry-relevant curriculum, innovative and vibrant learning spaces, and enriching overseas programmes.
The Polytechnic is committed to producing competent and versatile graduates who are also imbued with sound values, so that they can be work ready, life ready and world ready. SP has more than 218,000 graduates and among them are successful entrepreneurs, top executives in multi-national and public-listed corporations, and well-known professionals across various industries and leaders in government.
SP clinched the inaugural ASEAN People's Award in 2015 for its contributions toward the region's community-building efforts. SP is also the first polytechnic to be awarded the President's Award for the Environment in 2010 and the President's Social Service Award in 2011.
Follow SP on Facebook at http://www.facebook.com/singaporepolytechnic and Twitter and Instagram at @singaporepoly.
About Shimadzu (Asia Pacific) Pte Ltd (www.shimadzu.com.sg)
Shimadzu (Asia Pacific) Pte. Ltd. is a subsidiary and the Asian headquarter of Shimadzu Corporation, which was founded in 1875 in Kyoto, Japan. The subsidiary was established in 1989 in Singapore as a distribution centre providing analytical solutions, scientific equipment, testing and NDI machines, balances and medical equipment to a wide range of laboratories. A fast-paced growth of business in the region has seen the opening of 4 subsidiaries in India, Malaysia, Philippines and Vietnam with application specialists, technical and sales engineers operating across 18 countries throughout the region including, Singapore, Bangladesh, Bhutan, Brunei, Cambodia, East Timor, Indonesia, Laos, Maldives, Myanmar, Nepal, Pakistan, Sri Lanka and Thailand. Additionally, the company operates via a wide and carefully selected network of local distributors in every country in the region.
local academic research universities and a long list of local, state and central laboratories. Through adoption of scientific inventions and cutting-edge technologies, Shimadzu (Asia Pacific) provides its customers with the highest quality in product standards and delivers excellent customer support services in accordance with its motto - 'Excellence in Science'.
Follow Shimadzu (Asia Pacific) on Facebook at https://www.facebook.com/ShimadzuAsiaPacific and LinkedIn at https://www.linkedin.com/company/shimadzu-asia-pacific.
For media inquiries, please contact:
Singapore Polytechnic
Low Su-Lin (Ms)
Senior Manager, Communications
Contact: (65) 9690 1255
Email: LOW_Su-Lin@sp.edu.sg
Anna Fernandez (Ms)
Senior Executive, Communications
Singapore Polytechnic
Contact: (65) 9460 6430
Email: Anna_Louise_Joseph_FERNANDEZ@sp.edu.sg
Julian Low (Mr)
Senior Executive, Communications
Singapore Polytechnic
Contact: (65) 9431 3156
Email: julian_low@sp.edu.sg
Shimadzu (Asia Pacific) Pte Ltd
Marketing & Communications Department
Email: marketing@shimadzu.com.sg