SHINE-Ing A Light On All Things Chemical New Nanyang Polytechnic-Shimadzu Centre To Develop Innovations And Skills Mastery In Chemical Analysis For Students And Industry
Singapore, July 9, 2018: During the outbreak of infectious diseases or mass food poisoning, doctors often need to know the exact virus or bacteria before they can apply effective treatment. These pathogens can be identified through chemical analysis of their "signature" proteins. Now, there is a centre in Singapore dedicated to developing innovations as well as new talents, thereby enabling skills mastery in chemical analysis. The Nanyang Polytechnic-Shimadzu Innovation & Education Centre (NYP-SHINE Centre) was launched today.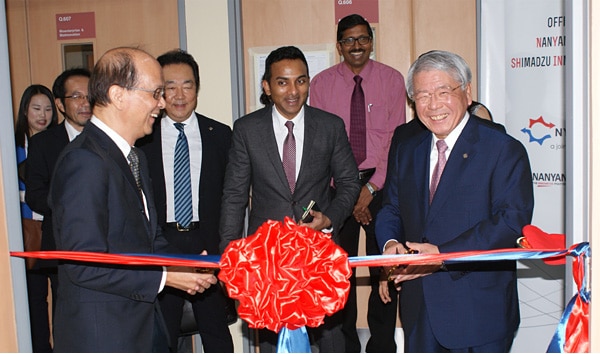 Students learn to chemically test for contaminants and pathogens in product samples. These samples could range from food, traditional Chinese medicine and drugs to infected farmed food fish. For instance, Halal products can be checked for the presence of pork or other animal-based origin. Pathogens that infect farmed food fish can be properly and rapidly identified, allowing early detection and protection via vaccination programmes, which NYP has been working on with our local and even overseas fish farms. Industry can also send their staff here for continuing education and skills mastery programmes in chemical analysis.
At NYP-SHINE Centre, chemical analysis is carried out on mass spectrometry machines – the widest range of such machines available in an institute of higher learning here. Simply put, these machines analyse the basic compositions of products using advanced separation techniques and determine their "identity" with high accuracy and sensitivity. Aside from detecting chemicals peculiar to the food/herb ingredients or meat, it can also detect chemicals which are foreign to the product.
NYP and Shimadzu (Asia Pacific) Pte Ltd are researching new ways to improve the efficiency of these processes. Dr Joel Lee, Director, NYP School of Chemical and Life Sciences, said: "Singapore can be a game changer in chemical analysis technology through innovation coupled with Singapore's branding of quality, reliability and adherence to international standards. We are constantly injecting new talents while helping those in the field achieve greater mastery. Industry is also working with academia for breakthrough processes. The NYP-SHINE Centre is a space where these many minds meet and delivers on co-creating value with industry, yet developing skilled talents in chemical analysis for the industry."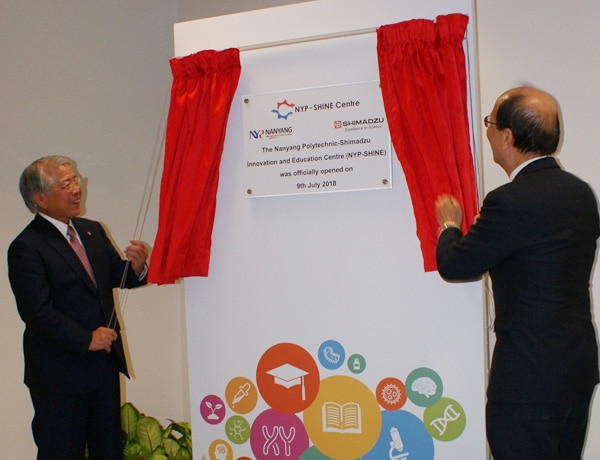 Mr Tanigaki Tetsuya, Managing Director, Shimadzu (Asia Pacific) Pte Ltd, Singapore, said that, "NYP and Shimadzu have collaborated over the decades to develop ground-breaking innovations not only for this region but also for the world. The launch of NYP-SHINE will take all these existing partnerships to an all-new level. We believe that being one of the global leaders in the domain of analytical instruments impresses upon us the responsibility to serve the society in any manner that we can. It is in this spirit that we are further strengthening our relationship with NYP with this collaboration. This commits us to work more closely together towards our common goal in making the world a better place."
Mr Prem Anand, Executive Officer and Senior General Manager, Shimadzu (Asia Pacific) Pte Ltd, Singapore, highlighted the importance of such an Industry-Academia collaboration. He said, "The main purpose of developing innovations and knowledge is that it can be implemented to practical uses to make the lives of people better. The wide range of contaminants and pollutants that can be analysed in this new collaboration lab will certainly help in Contributing to Society Through Science and Technology. Furthermore, this collaboration will act as an important bridge between academia and industry and help in much-needed exchange of knowledge between the two."
Each year, over 300 full-time NYP students will learn how to work with the machines at NYP-SHINE Centre for chemical and microbiological analysis. Another group that will soon be attending classes here is the Singapore Chinese Druggists Association. Its members will learn how the chemical profile of TCM herbs, hence their efficacy and taste are affected by different TCM brewing methods. Knowing this as part of their Quality Assurance will value add their business in trading safe, authentic and efficacious TCM ingredients and TCM-based products. This series of short courses in chemical analysis will run this September.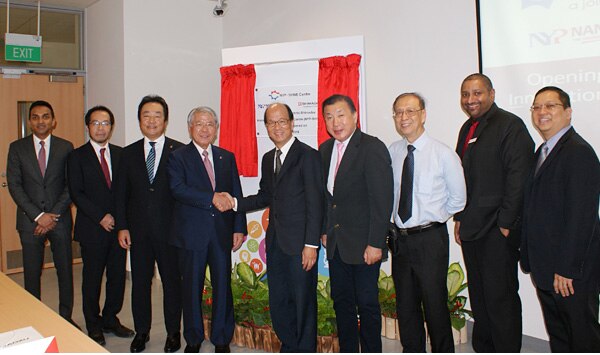 About Nanyang Polytechnic
Established as an institution of higher learning in 1992, Nanyang Polytechnic's (NYP) seven academic schools offer quality education and training through more than 40 full-time diploma courses. NYP also has a full suite of continuing education (CET) options for lifelong learning, ranging from specialist and advanced diplomas, to SkillsFuture modules and courses. NYP's Asian Culinary Institute and the Singapore Institute of Retail Studies are CET institutes set up in partnership with SkillsFuture Singapore to champion and transform Singapore's F&B and retail sectors respectively.
Through its strong network of industry connections, NYP empowers learners for work and life through relevant curricula and deep capabilities. NYP strives to be the innovative polytechnic, creating a nexus of future-ready learners, ready to take on new challenges and contribute to growth and sustainability. Nanyang Polytechnic is a recipient of Singapore's top organisational and business excellence awards: the Singapore Quality Award, the Innovation Excellence Award and the People Excellence Award.
About Shimadzu (Asia Pacific) Pte Ltd
Shimadzu (Asia Pacific) is the Asian subsidiary of Shimadzu Corporation, Japan. The subsidiary was established in 1989 in Singapore as a distribution centre providing analytical solutions, scientific equipment, testing machines, balances and medical equipment to a wide range of laboratories in Asia. A fast-paced growth of business in the region has seen the opening of 3 subsidiaries in India, Malaysia and the Philippines with application specialists, technical and sales engineers situated throughout the region.
Additionally, the company operates via a wide and carefully selected network of local distributers in every region. The company's instruments are relied upon by researchers all across Asia from large multinational organisations to local academic research universities and a long list of local, state, and central laboratories. Through adoption of scientific inventions and cutting-edge technologies, Shimadzu (Asia Pacific) provides its corporate clients with the highest quality in product standards and the delivery of excellent customer support services.
For media enquiries, please contact:
Mr Saptarshi Chaudhuri (Bob)
Marketing & Communications
Shimadzu (Asia Pacific) Pte Ltd
Mobile: (+65) 9273 6168
Email: saptarshi@shimadzu.com.sg
Nanyang Polytechnic
Wong Cuiyan
DID: 6550-0246
Email: wong_cuiyan@nyp.edu.sg
Asia PR Werkz, on behalf of Nanyang Polytechnic
Nurul Rasheed
Mobile: (65) 9474-6733
Email: nurul@asiaprwerkz.com